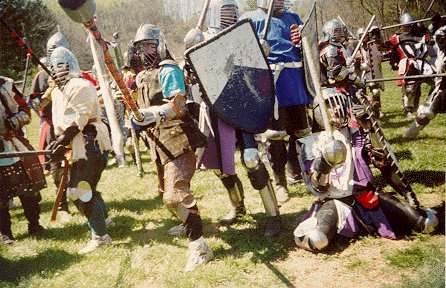 Welcome to the Current Middle Ages!
This is your invitation to the Current Middle Ages! If you've ever imagined yourself being part of the Middle Ages where two opposing armies of armor-clad fighters face each other, or where brightly colored pavilions stand with banners flying, or where gentles in rich costumes feast and dance together, then you have come to the right place!
We are an educational organization dedicated to researching, teaching, and recreating the crafts and culture of the Middle Ages. We have regularly scheduled events, demonstrations, workshops, guild meetings and other activities. Authenticity is encouraged, and members put their research into action by practicing arts such as weaving, calligraphy, cooking, heraldry, brewing, and making clothes and jewelry. You can also learn to fight with heavy weapons such as swords and shields, or to fence with foils, epees and rapiers, or to fight with archery and thrown weapons. We also attempt to practice the dream of those lost ideals found in medieval times: Chivalry, Courtesy, and Honor.